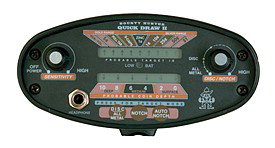 GROUND TRAC
In metal detecting, it is very important that the machine is calibrated for the particular soil conditions that you are hunting. This allows the detector to discriminate the difference between the soil and a target. Bounty Hunter metal detectors come with the Ground Trac®. This feature automatically balances the machine to the soil conditions.
THREE MODE DISCRIMINATION
This is the three modes in which the Quickdraw operates.
1) Discriminate -
2) Notch
3) Autonotch
DIGITAL CIRCUITRY
ZILOG Z-86 Computer Circuit which combines with Bounty Hunter's Patented Technology.
LCD DISPLAY
The LCD target readout will display the probable type of metal being targeted and what denomination of coins are detected. The denomination of coins are also symbols for many other types of metal that are in the same detection range.
DEPTH READOUT
The depth indication dial is located at the top right of the LCD panel. Each number represents inches (2 -10 inches). The depth arrow will lock on and emit simultaneously with the target identification. Usually when the depth hits 10 inches, the target identification will emit an arrow under deep target.
5 YEAR WARRANTY
Bounty Hunter metal detectors are warranted to the original retail consumer for 5 years from date of retail purchase against defects in material and workmanship.