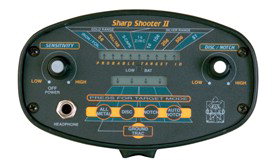 GROUND TRAC
In metal detecting, it is very important that the machine is calibrated for the particular soil conditions that you are hunting. This allows the detector to discriminate the difference between the soil and a target. Bounty Hunter metal detectors come with the Ground Trac®. This feature automatically balances the machine to the soil conditions.
NO MOTION DISCRIMINATION
No-Motion all metal mode is when no movement of the coil is required to detect a target.
LCD DISPLAY
The LCD target readout will display the probable type of metal being targeted and what denomination of coins are detected. The denomination of coins are also symbols for many other types of metal that are in the same detection range.
5 YEAR WARRANTY
Bounty Hunter metal detectors are warranted to the original retail consumer for 5 years from date of retail purchase against defects in material and workmanship.