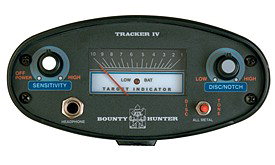 GROUND TRAC
In metal detecting, it is very important that the machine is calibrated for the particular soil conditions that you are hunting. This allows the detector to discriminate the difference between the soil and a target. Bounty Hunter metal detectors come with the Ground Trac®. This feature automatically balances the machine to the soil conditions.
THREE MODE DESCRIMINATION
This is the three modes in which some detectors operation.
1) Motion all metal mode is when it is necessary to swing the coil.
2) No-Motion all metal mode is when no movement is required to detect a target.
3) The Motion all metal mode is the same mode as the motion all metal discriminate mode, but with the discrimination turned all the way down (off). It allows the user to hunt with three tone audio target ID and "see" everything, or almost everything.
5 YEAR WARRANTY
Bounty Hunter metal detectors are warranted to the original retail consumer for 5 years from date of retail purchase against defects in material and workmanship.