Fisher 1270 Metal Detector (Fisher-1270) - See Fisher Search Coils & Covers Here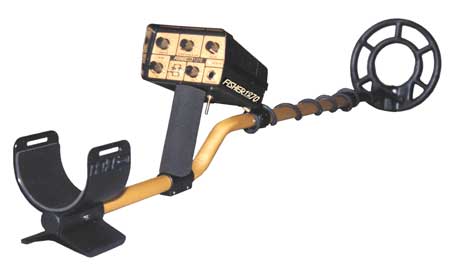 The Best of the Best. Special 70 Anniversary Edition RELIC & COIN METAL DETECTOR. Extreme depth with even better sensitivity to Relics. Building on the tradition of performance and quality in Fisher's 1200 series metal detectors, the 1270 is the pinnacle in a line of superior detectors. It's sensitivity to (RELICS) is now better than ever and its the one to beat in target depth. The 1270 also provides you with a toolbox of easy to use features that will give you an advantage in every treasure hunting situation: like a high resolution iron discrimination mode that enables you to (See Through) iron trash like never before, a precision ground balance adjustment for bad soil conditions, and a silencer mode for quiet discrimination. Also there's a trigger switch for pinpointing and mode changes designed to save you time.
Download Manual in Adobe pdf Format
CONTROLS: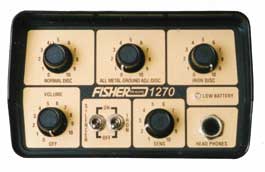 1. (Power on-off/volume knob)
2. (Iron Disc); High Resolution Iron Discrimination for improved target "See Through" in Iron Trash.
3. (Normal Disc.) Full Range Discrimination knob for normal search mode.
4. (All Metal Ground Adj/Disc); (Switch in Off position)-Disc mode. (Switch in On position)-all metal mode, adjust knob to ground balance.
5. (Sensitivity) Adjust knob for optimum target sensitivity. Full clock wise position provides a low audio threshold.
6. (Silencer) Switch on for silent discrimination. Off for standard.
7. ( Iron) Switch for iron disc. mode Off for normal search mode.
8. (Trigger Switch) Three Position,spring loaded trigger switch. Center position for primary search mode, push for secondary search mode, pull for pinpoint.
FEATURES:
* THREE SEARCH MODES- NORMAL DISC-ENHANCED IRON
* DISC-& ALL METAL GROUND BALANCE SEARCH
* ENHANCED RELIC SENSITIVITY
* CUTTING EDGE PERFORMANCE IN MOIST SOILS
* IMPROVED SEE-THROUGH IN IRON TRASH
* SENSITIVITY CONTROL TO ENABLE SILENT SEARCH OR AUDIO THRESHOLD
* SILENCER FOR SILENT DISCRIMINATION
* TRIGGER SWITCH MODE CHANGES
* TRIGGER SWITCH ZERO-MOTION PINPOINTING
* NEAR PERFECT BALANCE
* LIGHTWEIGHT CUSHIONED ARM REST AND GRIP
* LOW BATTERY ALERT-LED BLINKS AUTOMATICALLY
* DROP IN BATTERIES
* DOUBLE LOCKING LOWER STEM
* 3 PIECE BREAKDOWN HANDLE
* 5 Year Warranty
SPECIFICATIONS
Weight: 3.5 lbs.
Length: Extended 52 inches. Collapsed 42 inches
Frequency: VLF search 8.2 KHz
Search Modes: Normal Disc
Iron Disc
Ground Balanced
Pinpoint
No Threshold Operation
Outputs: Low battery alert
Built in Speaker
Stereo Headphone Jack
Search Coils: Concentric Coplanar Spider Coil
Diameter,8 inch
Shielding 100% esi
Interchangeable Yes
Submersible Yes
Batteries: 2 Nine Volt
Carbon Zinc 15 to 25 Hours
Alkaline 30 to 40 Hours
FISHER 1270 COILS & COVERS