Ace 250 Graphic Target ID
MORE TECHNOLOGY - MORE FEATURS - MORE TREASURE
Ace 250 w/ Pro Pack
Ace 250 w/ Sport Pack

Garrett Ace 250 Discovery Pack
w/ 6.5x9" PROformance Search Coil, TreasureSound Headphones, Coil Cover, Environmental Cover & Free Shipping
Our Price: $212 .45


Garrett Ace 250 Sport Pack
Includes w/ 6.5x9" & 9x12" Search Coils
& Free Shipping
Our Price: $297.45

Garrett Ace 250 Instructional DVD Video
Price: $9.95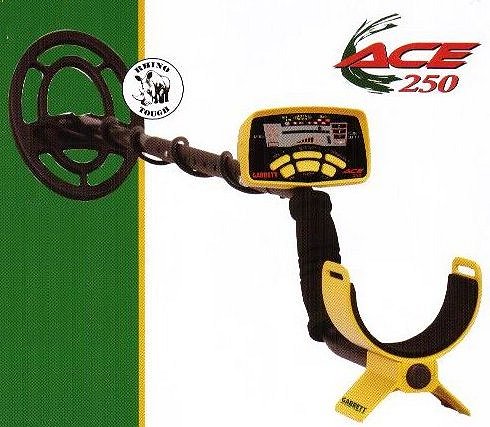 Additional Search Coils for the Ace 150 & 250
Ace 250 Graphic Target ID
Who said you can't build an affordable metal detector that has all of the exciting technology you love?
Announcing the ALL NEW, feature loaded, Ace 250 metal detector. With 40 years of engineering prowess behind it and a head turning sporty, outdoor design, this machine was made to perform for the 21st Century treasure hunter. But don't be fooled, this detector doesn't win first in its class on looks alone! Its as new on the inside as it is on the outside.
Loaded with full range notch discrimination, pinpoint feature, graphic target ID and Touch-n-Go technology, the Garrett Ace 250 is the finest metal detector in its class. It also comes with a graphic target ID cursor with 12 element GTA notch discrimination for greater accuracy, Coin Depth Mode, Tone ID, 8 Sensitivity Settings, 5 pre-set hunting modes and of course the most advanced LCD graphic screen for quick and easy visual target ID. Whew! Need we go on?
So there's no hiding it. The Ace 250 is the most desirable mechine of its kind on the market. And brawny, rugget good looks even inspired us to design teh Ace Series accessory line. From bags to caps, hunting aprons, digging tools and visors to earphones, you can be the treasure hunting Ace you were destined to become!
Of course you'd never expect a detector with this price tag to offer so much greatness. Just one more reason you need the Ace 250. So hold on tight. The Ace 250 will take you on the treasure hunting adventure of your life.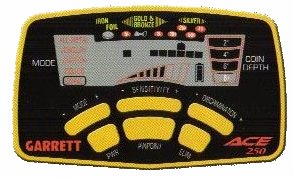 Features
Graphic Target ID Curser (12 segments)
Discrimination: Accept/Reject Notch
Electronic Pinpoint
Sensitivity, Depth Adjustment (8 settings)
Battery Condition Indicator
Coin Depth Indicator
Headphone Jack
Interchangable Ace Series Searchcoils
Large LCD Display
Microprocessor Controlled
Push Button Controls
Clear Speaker Tone
Tone ID, 3 levels
Touch-n-Go Operation
Search Modes
All Metal
Jewelry
Custom
Relics
Coins
Specifications
Length 42" to 51" Adjustable
Weight 2.7 lbs.
Frequency - 7.2 khz
4 AA battery operation / batteries included
2 yr warranty
Settings
Full Range Multi-Notch Discrimination Modes
Sensitivity / Depth
Mode: 5 Distinct Discrimination Patterns
Searchcoil
The ACE 150 comes with the ALL NEW 6.5 x 9 Rhino Tough
PROformance interchangable searchcoil.