______________

Introducing the Totally NEW Concept in PULSE Underwater/Wading Metal Detectors.

Newly Engineered High-Powered Pulse circuitry built inside the Headphones!


11" Searchcoil with Heavy Duty Coil Attachment and Clevis Design


Adjustable Stainless Steel Arm Cup with Velcro Strap (not shown)


Soft, Comfortable Handgrip for All Day Use
| | |
| --- | --- |
| | Click Icon for Manual |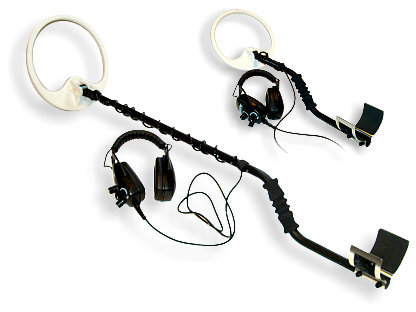 Headhunter Pulse Wading and Diving Configurations
| | |
| --- | --- |
| | During testing of the HEADHUNTER Pulse, this heavy 9" 14K Gold bracelet was found on a salt water beach. |
Our Headhunter PULSE was designed to do one thing very well... Punch deep in high mineral sand and salt conditions for GOLD! Newly engineered PULSE circuitry now fits into our acclaimed headphones making it the most compact underwater PI metal detector in the world today. The Headhunter PULSE has been engineered to perform in both salt and fresh water. The Headhunter PULSE circuitry is controlled by a unique new Frequency control that re-tunes the sensitivity of the HEADHUNTER PULSE to be responsive to selected metals without losing its depth toward the selected metal. Unlike other PI detectors, turning the frequency control back from the higher frequency position will not result in a loss of depth for the detector.
Technical Specifications:
Operating Search Frequency: Adjustable
Searchcoil: 11 inch round open-center
Headphone Transducers: Permanently encapsulated high-output piezoelectric.
Audio Frequency: Adjustable
Headphone Earcups: Heavy-duty polymer full ear surround; extra comfortable stay-soft non-hardening cushions, ambient noise blocking up to 24 decibels.
Headphone Frame: Adjustable padded headband, no screws, no wire frame, no rust, compact carry foldable design.
Controls: Full range Volume, Frequency Adjust, & Tuning
Search Mode: Slow motion all-metal
Operating environments: Salt & fresh water to 100 feet, beach, & rain storms.
Cable: Heavy-duty custom straight
Hand Grip: Soft foam anatomic for all-day use.
Rods: Self-draining anodized aluminum with durable baked on powder coating.
Armrest: Adjustable stainless steel with waterproof padding and Velcro strap
Isolator: Heavy-duty non-metallic with nylon thumbnut & stud assembly.
Rod Length: 27 to 53 inches.
Breakdown: Three pieces for easy storage and travel.
Weight With Batteries: 3.5 pounds.
Batteries: (2) 9-Volt cells of any type, carbon-zinc (supplied), alkaline, or rechargeable.
Battery Life: 8-12 hours (alkaline)
Applications: Jewelry, relic, and coin hunting.
Warranty: Two Years
NOTE: Specifications and features subject to change without notice.