Minelab Eureka Gold
Retail $1469.00 Our Price $1049.00
Plus Free Shipping, Saber Tooth Digger, Treasure / Trash Pouch
Price: $1049.00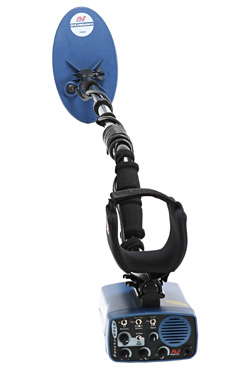 The Eureka Gold gives you 6.4kHz for maximum depth, 20kHz for general detecting and the super sensitive 60kHz to find the smallest gold nuggets that others are missing. Minelab's exclusive triple frequency technology makes prospecting easier!
Featuring Minelab's "Accu-Trak" Digital Ground Balance with switchable 2 speed recovery, combined with new microprocessor controlled discrimination circuitry takes the guess work out of detecting so YOU will find more gold, more often. Hot Rocks are no problem for the Eureka Gold, it will punch through highly mineralized soil with ease.
60, 20, 6.4 khz operation switchable between frequencies

Accu-Trak Digital ground balance with 3 speed tracking recovery
Trash Rejection Circuits in each frequency
ULTIMATE accuracy with variable discrimination controlFull coverate with Mnelab's 10" DD easy sweep elliptical coil
2 position box mounting for balance and comfort
New "firm-feel" comfort balance shaft
New rugged metal armrest and stabilizer strap
Features

Length

Maximum

53in (1350mm)

Minimum

47in (1190mm)

Weight

Control Box*

2.4kg

Goldsearch 1000 Elliptical Coil

14.8oz (420gms)

Configuration

2 position shaft and optional Hip mount

Technology

Very Low Frequency (VLF)

Transmit Frequency

3 Frequencies (6.4, 20 & 60 kHz)

Ground Rejection

Accu-Trak Automatic Digital Ground Balancing

NiMH Rechargeable Battery System

12V, 1000mAh

Mains Charger


110V (USA), 230V (EU), 240V (AUS)

Battery

6V 12 Ah Gel Cell

Metal Arm Rest, Neoprene Cover & Strap

Detector Stand

Controls

On/Off; Volume

1 turn control

Sensitivity

1 turn control

Threshold

1 turn control

Discriminate Level Adjust

1 turn control

All Metals/Discriminate

2 pos. switch

Tone

1 turn control

Frequency

3 pos. switch

Balance

3 pos. switch

Signal

3 pos. switch

Accessories

Alkaline Battery System

8 x 1.5V (AA)

Goldsearch Coil

11" Round

Car Charger

12V, Cigarette lighter plug

Hip Mount Bag

Durable cordura with window

Headphones

32 ohms

Warranty

Control Box

2 years

Coil

1 year

*including batteries