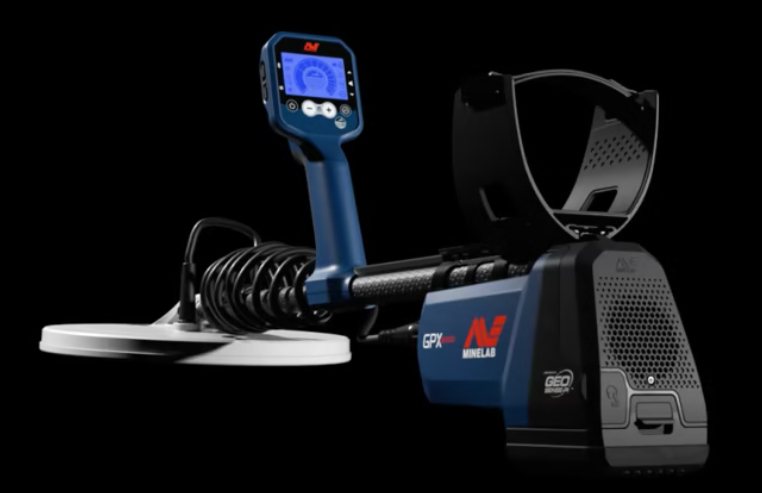 Minelab GPX 6000 PULSE GOLD PROSPECTING DETECTOR
Minelab Factory Included Accessories
11" Mono and 14" Double-D Search Coils
Li-ion Batteries
Charger & Battery Charging Cable
Bluetooth Headphones
• Instruction Manual
• 3 Year Warranty
Free Shipping
Retail $7799.00 Our Price $5999.00
GeoSense-PI™
GeoSense-PI™ technology analyses and responds to ground signals with g reat clarity and precision, so you can detect in difficult environments once thought undetectable.
It rapidly suppresses unwanted signals via three overlapping feedback systems for superfast detection of even the tiniest gold pieces.
Powered by GeoSense™ technology, the GPX 6000® is in tune with you and the earth.

GPX 6000 Tech Specs

Search Modes (Ground Types)
Difficult (default) | Normal
Double-D Modes EMI Cancel (default) | Conductive Ground Cancel
Ground Balance Auto | Manual (Quick-Trak)
Noise Cancel Automatic (on start-up) | Manual (as needed - 5s duration)
Sensitivity Manual (levels 1 — 10) | Auto (level 11) | Auto+ (Level 12)
Threshold Tone On, Off
Volume 5 Levels
Length Extended: 155 cm (61 in) | Collapsed: 67 cm (26.5 in)
Weight 2.1 kg (4.6 lb) (with 11" round Monoloop coil)
Display Monchrome LCD with backlight
Available coils GPX 11™ 11" round Monoloop | GPX 14™ 14" round Double-D | GPX 17™ 17"x13" elliptical Monoloop
Audio Output Built-in loudspeaker | Wired 3.5 mm (1/8" headphones) | Bluetooth wireless audio (aptX™ Low Latency)
Supplied Headphones ML 100 wireless headphones
Supplied Batteries Rechargeable Lithium-Ion battery 5833 mAh
Battery Runtime 8 hours (approximately)
Waterproof Coils: submersible to 1m (3.3 ft) | Detector: splash / rain proof
Operating Frequency 1.225 kHz
Operating Temperature Range -10°C to +50°C (+14°F to +122°F)
Storage Temperature Range -20°C to 70°C (-4°F to 158°F)
Key Technologies GeoSense-PI™ | Bluetooth | aptX™ Low Latency
---

© 2023 TCMETALDETECTORS.COM
Web Page Design by Papertiq