Minelab SDC 2300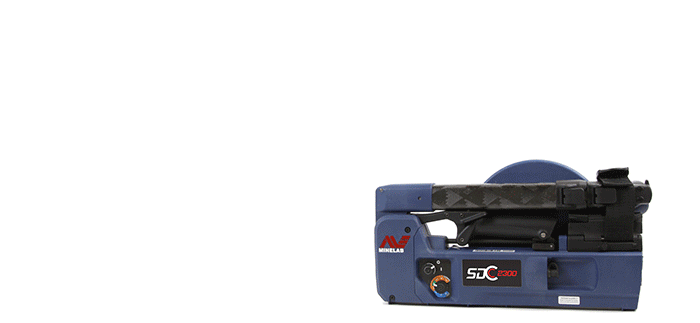 MINELAB SDC 2300 GOLD PROSPECTING METAL DETECTOR
w/ 8" Round monoloop search coil
Minelab factory accessories
• UR-30 Headphones
• Ni-Cd & Ni-MH computer controlled smart charger
• Instruction manual
• 3 Year warranty
retail $4,875.00 our price $3299.00



Minelab Waterproof Headphones for the SDC 2300

Water protection
Waterproof: Submersible to 3 meters. Ideal for shallow wading at the beach, or detecting in shallow streams.
Minelab SDC 2300 Metal Detector
Find elusive sub-gram nuggets on land & underwater!
The SDC 2300 is a high performance mid-range gold detector, perfect for chasing down those elusive sub-gram nuggets on land and underwater. This compact waterproof detector comes with easy-to-use controls and is assembly-free.
Quickly find more gold patches and more gold nuggets!
This amazing SDC 2300 was field tested by Minelab professional testers in real gold fields (heavily mineralised) and delivered proven results."SDC 2300 strikes gold in field test land previously hunted by another (brand) midrange machine" - Minelab field tester
Features:
Compact
Folds to small portable size, 8.5" (216mm) by 15.7" (400mm). Fits into carry-on luggage and most backpacks.
Waterproof Capability
Fully submersible to 10' (3m) for detecting riverbeds and shorelines, allowing you to transition with ease from land to water.
Rugged & Assembly Free
Military grade construction, one piece detector designed to perform in the toughest conditions. No assembly required.
Easy Patch Hunting
Search quickly and efficiently in hard to reach and remote places to find those elusive gold bearing clustered deposits.
MPF Technology:
MPF (Multi Period Fast) technology incorporates extremely fast pulse induction switching between Transmit (Tx) and Receive (Rx) detector signals. Therefore minimal residual transmit signal is present during the receive cycle, enabling clear sharp detection of very small gold.
| | |
| --- | --- |
| Application | Gold prospecting ( SDC 2300 is waterproof to 10ft) |
| Technology | MPF |
| Frequency/transmission | Pulse induction, Multi Period Fast (MPF) |
| Coil (standard) | 8" Monoloop |
| Audio output | Built-in speaker & Koss waterproof headphones (not supplied) |
| Headphones supplied | Koss 100 ohm headphones (supplied) |
| Visual display | LED lights |
| Backlight | |
| USB connectivity | |
| Memory | - |
| Depth indication | |
| Detect modes | Normal (1-5 Sensitivity range) & Salt (1-3 Sensitivity range) |
| Discrimination | - |
| Timings | |
| Audio tone | Low, High |
| Audio type | - |
| Ground balance | Automatic Ground Tracking (AGT) fast ground balance |
| Ground balance type | Automatic Ground Tracking (AGT) fast ground balance |
| Trash density | - |
| Pinpoint | - |
| Sensitivity adjust | Normal (1-5 Sensitivity range) & Salt (1-3 Sensitivity range) |
| Tune / noise cancel | Automatic scanning |
| Threshold | 9 audio levels |
| Target volume adjust | - |
| Battery | 4 x C-cell 1.2V 5000mAh rechargeable (supplied with charger) 1.5V Alkaline (not supplied) |
| Low battery alert | visual LED indicator |
| Length | Extended: 1500mm (59.1") Collapsed: 400mm (15.7") |
| Weight | 2.3kg (5.1lbs) |
| Warranty | 3 years control box & coil |